Roatan Coco View – November 2 – 9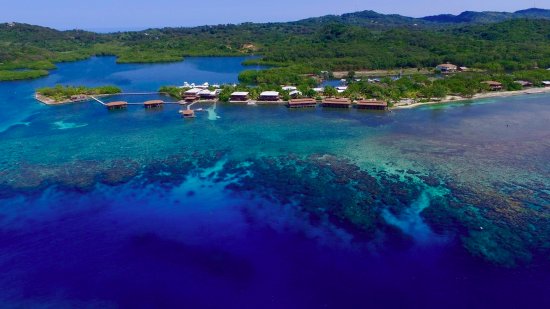 Our 2019 trip is to the beautiful Coco View resort on the Island of Roatan off the coast of Honduras. Coco View is located on Roatan's south shore and is perched on the edge of the world's second largest coral reef. The trip includes 2 boat dives per day plus unlimited 24×7 shore diving. From shore, you can reach a plane wreck and the 140′ Prince Albert. (To watch a video of the sinking of the ship, <click here>
For the snorkeler, the large reef on the "front yard" of the resort is easy access to a large shallow reef with a wide variety of sea life that you don't have to strain your eyes to see the detail. To see a webcam of that area, <click here>
We were last there in 2015 and the food (included in the price) was great. On the last day, they had a lobster buffet!
This place is one of the easiest places to dive. The dive shop (Dockside Dive and Photo Center), compressor room, air tanks, Nitrox, and Dive Masters are all conveniently located on the boat dock. Your dive equipment is also kept on the dock, stored in large lockers only steps away from your boat. Plentiful clean water rinse tanks and showers are located there, too. You can look at the dock right now with this live cam. <click here>
Several of their boats have a unique feature. Instead of timing your approach the ladder on the back of the boat if there are waves, you can swim up to a ladder in the middle of the boat.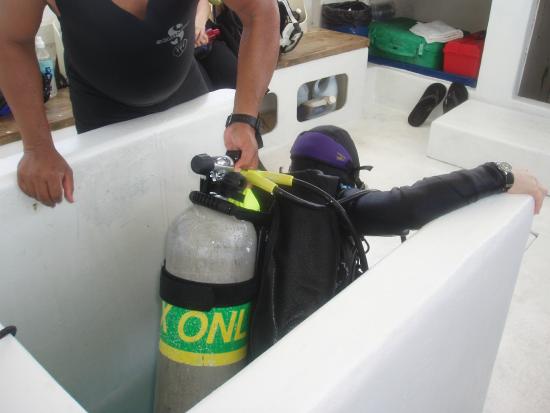 The cost for the trip is $1799 which includes your accommodations, 2 boat dives per day, 3 meals per day, transfers to/from the airport and island tax. To reserve a space, we request a $250 deposit. Final payment is due August 28, 2019. (Airfare is not included).
If you'd like to watch a promotional video, <click here>